18.04.2023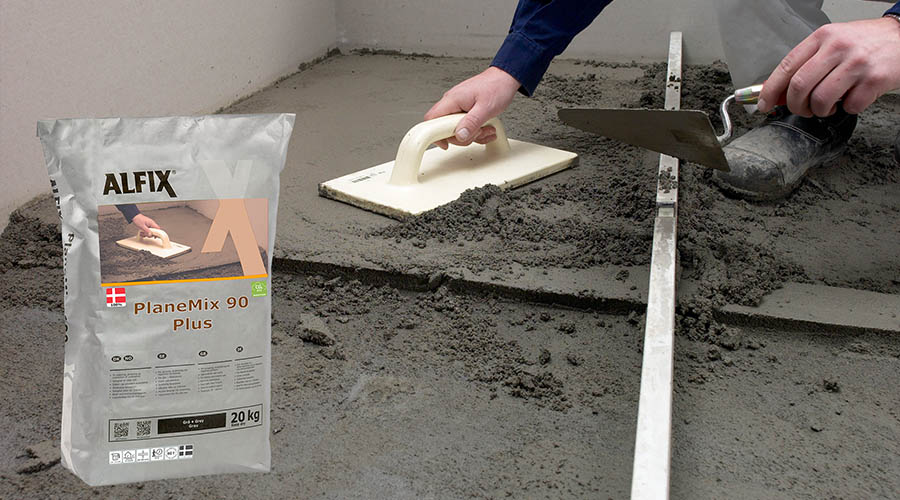 NEW LOW-CARBON SCREEDING MORTAR
Alfix is now launching its first low-carbon screeding mortar. Alfix PlaneMix 90 Plus is a semi-dry screeding mortar that is ideal for renovation tasks, for example, and an excellent choice for wet rooms and underfloor heating.
Introduction to Alfix PlaneMix 90 Plus
Alfix PlaneMix 90 Plus is a low-carbon screeding mortar that can be worked up and rendered to create a bonded surface. It is ideal for levelling, smoothing and repairing subfloors – in wet rooms, for example, with subsequent tiling.
The mortar features excellent processing properties when rendering surfaces. It is designed for projects where speed and rapid strength development are not crucial factors.
Third product in the new Plus range
Alfix PlaneMix 90 Plus is the first screeding mortar in Alfix's new Plus range. In Alfix terminology, "Plus" means greater environmental consideration in relation to comparable Alfix products, in that the composition of Plus products, and the choice of raw materials used in them, is designed to show the greatest possible consideration for the environment and OHAS. At the same time, these products retain the essential properties and strengths for which Alfix is well known.
As such, Alfix PlaneMix 90 Plus is the first dry mortar screeding product to feature the low-carbon cement (Futurecem™). In order to reduce carbon consumption even further, residual powder from Alfix production units has been used as filler in the product. To provide a specific example, reusing residual powder meant that the first production run of the new screeding mortar in mid-April 2023 saw the reuse of two big bags (1.5 tonnes) of residual powder that would otherwise have been used as road aggregate.
The new screeding mortar is EMICODE EC1 PLUS-certified, which documents a minimal impact on the indoor climate. The product is supplied in FSC®-labelled paper sacks (FSC® N003719) that feature a new type of moisture-barrier inner film made of 100% recycled plastic.
Please note that the other two products in the Plus range are the Swan-labelled tile adhesives Alfix ProFix Plus and Alfix LetFix Plus.
Obs, de andre to produkter i Plus-serien er de Svanemærkede flisekæbere, Alfix ProFix Plus and Alfix LetFix Plus
Benefits for the mason?
The semi-dry mortar is easy to work with and to level
The surface is easy to render and to close
Solid surface strength and next-day drying
Applicable manually or by pump